Customer Service Chat Will Help You to Boost Your Business.
Better Customer Service or More Sales? Both!
Customer service chat and store

Imagine that you have a physical store. How do you react to incoming visitors? Do you stand next to the cash register even though you can see dozens of visitors wandering around? Or do you ask the closest visitor "Can I help you?". Or are you the salesperson who makes the visitors go away offering goods or services the visitors don't want to buy?
Let's continue this for a bit. You can see that a visitor is comparing two products. Do you leave the visitor standing alone or will you go and help them to decide which one to buy? And do you also recommend some optional extra goods that could help the visitor enjoy the purchase even more (for example a helmet and pump for a bicycle buyer)? 
Customer service chat can be an annoying pop up that hides the information you are looking for. Or then you cannot find the chat when you really need help. But if the chat is build with a clear business goal and customers' needs' in mind it can increase the customer satisfaction rate substantially. Customer service chat offers also a lot of data to management to monitor the development of sales and customer satisfaction.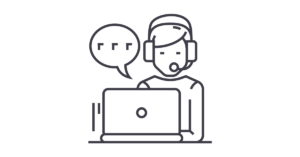 How has the chat changed customer service and sales?
Customer service chats is a new interactive sales channel. It's not just a tool. It's about the change of a mindset too. When the visitor is not left alone on the website but offered help, generates this more sales and leads.
If five out of hundred website visitors buy, what do the rest 95 visitors do? Let's consider your physical store. Would you try to engage as many customers as possible or would you just stand passively at the cash register and wait for the 5 visitors to come at you? Chat makes it also possible to engage the most valuable customers - we can offer insight to your data to recognize the website visitor segments which convert the best. 
This kind of customer segments can be, for example, those users who browse your most expensive product over and over again. They might consider the purchase, but something prevents them from buying. With the help of the chat, you can remove this obstacle from the purchase process. 
The benefits of a customer service chat
More sales

Real-time communication with the client

Recognize the most potential customers

Remove the obstacles from the purchase process

Easy channel for contact

Chat offers a lot of data to support sales & online development

Possibility to expand from chat to chatbot
One of the most common uses for a chat is to grow sales. A customer service agent can open the conversation proactively so that they can offer help or sell extra goods on top of the customer's purchase. Also, the bot can make additional sales, so customer service agents are not necessarily needed. Rainmaker helps to boost their clients' sales with a chat.
Real-time communication with the client
One of the chat's advantages is the real-time communication with a customer. The customer does not need to fill any forms and wait for someone to answer. If the customer service is closed, the chatbot can help the customer. One customer service agent can also handle multiple chats compares to handling just one phone call at the time.  
Recognizing the most valuable customers
There might be so much traffic on the website that the customer service cannot proactively to contact all of the visitors. We can help to use the data to find the customer segments where the proactive chat is the most profitable. For example, a company selling package holidays can use a proactive conversation to reach the customers considering the most expensive tours. How TUI Finland boosted their sales with our chat. 
Remove the obstacles from the purchase process
Sometimes the agent needs information from the customer to proceed in the problem-solving. Electricity contract is one of these services. It can be difficult to proceed in the order process, since not many people know exactly how much electricity they use in one month. If a website visitor starts to fill a form to get an offer for the electricity contract, they might get stuck because they don't know how much electricity they use monthly. An agent can can help the visitor to complete the purchase process through the chat. 
Different customer segments have other preferences when it comes to customer service. Chat offers millennials an easy way to reach the company without needing to give a call. According to Zendesk's research, the customers who contacted the customer service through chat were more satisfied than customers who used email or phone.
Data for sales and development
A customer service representative can tag the conversations. Most common tags are sales, customer service and complaints. This way, the management can monitor the development of customer service quality. Read more about tagging the chat discussions..
The expansion from chat to chatbot
The chatbot is a useful addition to customer service chat. We've covered the chatbot topic previously in chatbot information page, so here are the uses of a chatbot in short: building a chatbot needs data. Customer service chats offer this data. 
Checklist for choosing a chat
When choosing a customer service chat, several points need to be covered. These are for example mobile-friendly chat, integrations, chat resourcing and GDPR. 
If your company has a customer service center, it's important to consider if all of the agents are trained to chat service or just some. For some sales people answering the customers through a chat can be unpleasant and others would rather just use the chat instead of the phone. If the customer service is operates in several locations (for example Northern and Southern Finland's customer service agents are based in different cities), it's worth pondering should the chat be staffed with personnel from every location. 
You get most out of the chat with using it for sales as well and not just for customer service. A big part of companies trains their sales personnel to initiate and answer chat discussions. 
If your company uses the chat for both sales and customer service purposes, it's beneficial to choose a tool where discussion can be transferred from one agent to another so that the customer's problem can be easily solved, even though the agent changes. 
Customer service chat and integrations
A chat needs to be integrated into other company's other customer service software to offer the best possible customer experience. APIs can be used for integration. This way, the user experience is pleasant for both the customer and the agent. 
We can install our chat to be a part of the most common customer service software dashboards. 
It's very frustrating if a chat window covers the whole mobile screen. Mobile users might also have different kind of needs than those who browse the website with a desktop computer or tablet. The company should design a mobile-friendly chat. Also, the amount of mobile visitors on most websites is increasing. Read more about a mobile-friendly chat 
The customer service chat is subject to the GDPR. The tool and its integrations should be built IT security requirements in mind, and this is the reason why third-party integration tools should be used carefully. This kind of tools transfer information, for example, from chat to customer relationship management systems, and it might be a big challenge to find out the root cause in case of a data breach. 
Do you still have some questions to which we haven't provided answers? Book a free consultation!
How to launch a customer service chat?
Building and launching a chat is a process where cooperation sales, marketing and customer service need to cooperate with resources and efforts. 
Goals - why is the chat planned?
First of all, it's important to think why the chat is planned. It's not just a technical tool that is a "must-have". The service is most useful when the company connects it to the company customer service strategic goals. Does it replace some of the customer service channels, or is it an addition to the current ones?
This way, the chat is connected to the business and developed with the same guidelines as other company functions.
Customer service chat resourcing
The customer service chat does not generate leads automatically. The use of the chat needs human resources too. If there are no customer agents available, the tool can offer a contact form or callback service. 
Technological requirements
Decide which are the most important features and compare chat providers. Consider especially the following:
References: what kind of companies use that tool.

Chat integrations. Lekane's chat is easy to integrate into Genesys, Avaya and other contact centre software. 

The multiple uses of the tool

Expanding from chat to chatbot

Chat provider's support, training and consulting services.
Service processes - what kind of customer paths benefit the company most?
It could be tempting to think that the chat setup is ready when the IT adds the script to the website. Successful chat launch requires through planning and resourcing. How are the customer service employees trained? What is the customer path? What is to tone of the voice in the chat conversation?
Measuring and developing - what is the role of the chat next year?
Even though a systematic approach is needed, there should be room for development and improvisation. That's why it's essential to measure and manage the chat's main KPI's (key performance indicators).
Customer service chat KPIs can be, for example:
The amount of chat conversations

Average length of a chat discussion

How many customers got their problems solved during one chat discussion.

Customer satisfaction rate.
There need to be resources to develop the process and tool after launch as well. Read more about measuring customer service chat discussions..
A chatbot is a natural step ahead after launching a customer service chat. But chatbot can also be built without utilizing a chat tool first. Read more about chatbots. 
How do we build a highly-functioning chat with a client?
First, we gather a team that creates a customer service chat strategy. What goals the company has for customer service, and how can chat help in reaching these goals? We also set process step and timetables. 
We can help also consulting in the resourcing issue. Do you have employees or do you want to outsource the chat agents? We cooperate with various customer service agencies so we can recommend you a suitable partner.
We build the technical setup and design the UX to match your website. 
We'll help you also to measure the chat discussions. We offer a very clear dashboard where you can follow the discussions in real-time. You'll also receive reports on a daily-, weekly- or monthly basis depending on your preferences.
When the chat is launched our work is not over yet. We'll adjust together tags, rules or any other features based on the customer and chat agent feedback.
Our main goal is to be your reliable partner and help you to serve your online customers even better. Do you want to consult us about chat? Book a time! 
5 things to remember when starting a chat project
Use chat to gather leads. Chat is not just for customer service but for generating leads from the website as well.
Never see the chat only as a technical tool. Customer service chat needs resources, to function properly.
Measuring is important What kind of discussions the customer service agents have and how many of these are converted to sales or redirected to sales personnel? A clear dashboard helps the management to monitor the chat services. 
Are customers directed to the right expert? No customer service agent can answer to all of the customers' questions. How does the process proceed if there are problems?
Resources and processes. Make sure that the customer service center has enough resources to take care of the chat conversations. Clarify internal processes.
Considering buying a chat or a chatbot? Book a free consultation!