A Good Customer Experience
Is the Key to the Success
Previously companies competed with the quality of the products and services, but during the past few years the emphasis has shifted to the customer experience. Developing the customer experience obliges the companies to think their services from the customers' point of view. In this article we go through some factors that have an effect on customer experience. 

What is a customer experience
Why good customer experience is so important
How to create a good customer experience
Measuring the customer experience
Developing the customer experience
The importance of the customer experience is connected to the rise of internet and social media, when even more products are bought thanks to recommendations. The better customer experience you offer, the more your customers want to recommend you.
It's important to understand that the customers are not just subjects of your marketing and sales efforts, but in the center of your business. Even though your product would be of high quality, your customers will be your competitor's customers if your customer experience is not good.
What is Customer Experience?
Customer experience is the subjective experience that forms in the customer's mind as a result of many things.
The customer experience is the sum of many parts: brand, website outlook, customer service efficiency, tone of communication etc. Positive and coherent customer experience guides and enhances the purchase process and guarantees your company growth and success.
Customer experience starts from the moment the customer finds out that your company exists. This can happen through Google, website, advertising or other form of communication.
It's good to keep in mind that the customer experience continues after the customer is not connected to your company any more. This is the reason why customer experience management needs to be ongoing and not to treat it as a single project.
Customer experience can be the differentiating factor that gets the customer buy from you and not from your competitor. This can happen even though your competitor's prices would be lower. 
Why good customer experience is so important?
Customers want to have as much information as possible before buying anything to confirm that they are making the right decision. People ask recommendations from their friends and search for them in the internet.
If our friends or colleagues recommend us a product or a service we probably trust their word more than advertising and consider buying from the same company.
Digitalization and the rise of the social media have amplified the good and bad customer experiences. Ofthen people share their surprising experiences in social media whether they were good or bad.
A good customer experience exceeds expectations
The be able to create positive customer experiences you have to understand the customers' expectations and exceed them. This way it's more probable that your customers share their positive experiences. It's much more effective marketing than just advertising.
It's also useful to try to turn a negative customer experience into a positive one so that you won't lose the customer.
It's does not always require much to turn a negative customer experience into a positive one; often swift action and maybe a small reduction in price are more than enough.
The tales of negative customer experiences spread fast and can create a bad reputation and drive out potential clients. In the end it's usually much more expensive to forget developing the customer experience than using money to manage the customer experience. Customer experience takes place in the customer's mind, whether you wanted it or not.
Creating a customer experience starts when you understand the customer's expectations. Then you can plan how to exceed these expectations. 
Measuring the customer experience
You can measure the customer experience with different tools and means. The best way for measuring depends on the clientele and industry. Here are some options:
Ask how you could serve the client better. It's better than "How did we succeed today?"-question.

Analyze the collected information from different viewpoints.

Measure the NPS (Net Promoter Score): ask from your client after the interaction that how probably they would recommend the service to others on the scale from 1 to ten. NPS is easy to ask at the end of a chat conversation. Read more about NPS. 

Measure CES (Customer Effect Score), which is developed to focus on customer service.

CSAT measures the customer's satisfaction related to the service they've had.

Jos sinulla on käytössä Google My Business -tili, kerää asiakasarviot sen kautta. 
Mittasit asiakastyytyväisyyttä millä keinolla tahansa, on tärkeää, että tuloksia voidaan analysoida kokonaisuutena ja hyödyntää yrityksen päivittäisessä arjessa sekä seurata systemaattisesti. Kehota asiakkaita myös jättämään palautetta aktiivisesti.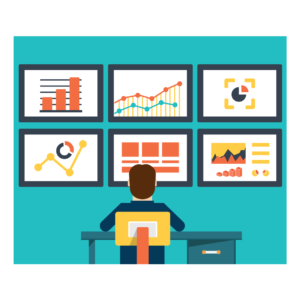 Customer service is part of the customer experience – improving the customer experience
Sales and customer experience are the most important things that have an effect on customer experience. It's important to understand where the customer and company have a touch point. These touch points create the customer journey map. 
When creating a customer journey map the company goes through the process from the customers' perspective. Could the company answers customers' inquiries faster? Could the customer service agents answer through chat too? What would be the best touch point for a chatbot? When the company maps the customer journey there will often be new possibilities for sales and marketing. 
When the company understands the customers' expectations it's easier to exceed those expectations. That's what the development process of the customer experience is all about. – When you know your customers, you know how they behave in customer service and sales encounters. 
Technology and the customer experience
Technology has created new possibilites to improve the customer experience. Social media makes it easier to contact the customers, and get information about them and their habits and beliefs. 
Älypuhelimet ja tabletit mahdollistavat, että kommunikaatio yrityksen ja asiakkaan välillä onnistuu muuallakin kuin kotona läppärin ääressä. Paikantamisteknologioiden avulla yritys saa tietoa asiakkaiden sijainnista, jolloin markkinointia voidaan kohdentaa asiakasystävällisemmin. Mahdollisuuksia on siis monia.
Ennen kuin huumaannut teknologian ja asiakaskokemuksen kehittämisen mahdollisuuksista, on tärkeää muistaa, että teknologia on vain työkalu parempaan asiakaskokemukseen, ei itsetarkoitus.
Teknologian ja asiakaskokemuksen kehittämisen huumassa yritys saattaa käynnistää useita eri kehitysprojekteja, jotka tehdään vähän vasemmalla kädellä. Kun tarkoituksena on tuoda uutta teknologiaa mukaan yrityksen prosesseihin ja parantaa asiakaskokemusta niiden avulla, projektiin täytyy varata tarpeeksi aikaa ja resursseja. 
Muuten saattaa käydä niin, että teknologiaa ei saada integroitua mukaan yrityksen toimintaan, jolloin projektin hyödyt ovat vähäiset. Pahimmillaan teknologia huonontaa asiakaskokemusta – jokainen meistä tietää, miten ikävää on saada markkinointisähköposteja, jotka ovat selkeästi tarkoitettu jollekin muulle, tai tarjousviestintää, joka ei kosketa millään tavoin. 
Ennen projektiin hyppäämistä, mieti myös, mitä muutoksia yrityksessä täytyy tehdä, jotta hyvä asiakaskokemus toteutuu ja millaista osaamista siihen tarvitaan. Kun varaat tarpeeksi aikaa ja resursseja integroidaksesi uuden työkalun yrityksen toimintaan mukaan, asiakaskokemuksen paraneminen on todennäköisempää. 
Miten chatbot auttaa asiakaskokemuksen kehittämisessä?
Chatbot on tietokoneohjelma, joka simuloi ihmisten välistä keskustelua. Chatbot tarjoaa useita mahdollisuuksia asiakaskokemuksen parantamiseen. Jotta chatbot parantaisi asiakaskokemusta, tulee botti rakentaa asiakkaiden tarpeiden näkökulmasta käsin. Ennen kuin botin ottaa laajempaan käyttöön, se kannattaa testata rajoitetulla asiakasryhmällä. Lue lisää chatbotista.  
Chatbot palvelee 24/7
Usein asiakaspalvelijoiden hallinnoimat palveluchatit ovat auki arkisin ainoastaan virka-aikaan, eikä palvelua saa iltaisin tai viikonloppuisin. Mikäli asiakas saapuu yrityksen sivustolle lauantai-iltana, mutta ei saa minkäänlaista palvelua, hän todennäköisesti katoaa kilpailijan sivustolle. 
Asiakkaat haluavat yhä useammin valita, milloin he ostavat yritykseltä tuotteita ja palveluja. Ratkaisu voi löytyä chatbotista, joka mahdollistaa asiakkaan palvelemisen ja hänen kanssaan kommunikoinnin 24/7. 
Tarkoituksenmukaisesti ohjelmoitu botti auttaa asiakkaita heidän haasteidensa kanssa ja ohjaa heidät eteenpäin ostoprosessissa. Botti on hyödyksi myös virka-aikana: jos asiakas kaipaa lisätietoa jostakin palvelusta tai tietyn henkilön yhteystietoja, botti tarjoaa asiakkaalle vastauksen sekunneissa. Näin asiakkaan ei tarvitse soittaa ruuhkaiseen asiakaspalvelunumeroon ja käyttää aikaansa odotteluun.
Toisaalta huonosti rakennettu botti voi myös sössiä asiakaskokemuksen, siksi chatbot-projektia ei kannata edistää liian kiireessä; parhaan asiakaskokemuksen saavuttaa, kun botti on suunniteltu huolella. 
Jos asiakas ei saa asiaansa hoidettua eikä botti vie häntä eteenpäin, vaihtaa asiakas aika nopeasti toisen yrityksen tuotteisiin/palveluihin. Siksi mikään määrä botteja ei korvaa hyviä asiakaspalvelijoita. 
Chatbot asiakaspalvelijan tukena
Botin tukena tuleekin olla ihmisasiakaspalvelu. Chatbotin avulla asiakas voi saada palvelua nopeammin, sillä botti voi kysyä asiakkaalta ennakkotiedot ja siirtää hänet heti oikealle asiakaspalvelijalle. 
Chatbot voi myös poimia asiakaspalvelijalle sähköpostien joukosta asiakkaan lähettämän viestin, minkä avulla asiakaspalvelija pystyy luomaan asiakkaalle parhaan mahdollisen asiakaskokemuksen. Botti voi myös tarjota asiakkaalle lisätuotteita ja -palveluja. Jos asiakas ostaa vaikkapa uimapuvun verkkokaupasta, botti voi tarjota asiakkaalle myös räpylöitä ja uimalaseja, ja auttaa häntä löytämään oikeanlaiset tuotteet. 
Chatbot saattaa olla asiakaskokemuksen kannalta hyvä tai huono asia. Jotta chatbot palvelelee mahdollisimman hyvin eikä esimerkiksi ärsytä asiakkaita, kannattaa se rakentaa huolellisesti. Lue lisää chatbot-palvelusta. 
Haluaisitko tietää, miten chatbot voisi olla avuksi juuri sinun yrityksesi asiakaskokemuksen kehittämisessä? Varaa aika ilmaiseen chatbot-konsultaatioon!